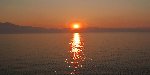 Hollow Bridge Lake truly is a place of great beauty and is a local favourite place, especially during the Summer months.
Much to the chagrin of the locals, the Lake has a strict "No Swimming" policy which is enforced by HBPD as well as the local environment agencies.  However, the use of Yacht's and other sailing vessels is permitted subject to all appropriate paperwork being properly submitted, and all restrictions being obeyed.
Over the past month, a new yacht has arrived.  None of the locals know who owns it, but the only way of reaching it is via a special private launch from the Yacht Club, for those on the guest list, or accompanying a guest.